Designing an Office
Office Building Strijbos-Jenniskens
Strijbos-Jenniskens Poultry is a company that is keeping poultry for several decades. Previously, the company existed of two stables with battery cages. Housing chickens in battery cages is prohibited from the year 2012 in the EU. For Strijbos Poultry this meant that it had to renew, and the outdated stables had to be demolished. It started with the construction of two stables in with a housing system that is named 'verrijkte kooi'. After the realization of the stables the outdated sorting shed is replaced by a new sorting shed with an office and changing rooms in the first two spans.
The new design
The first draft of the sorting shed was designed by 'van de Ligt advies'. The design consisted of a large shed, in the same color anthracite as the surrounding poultry stables, with an office in front of the shed made of brick. The client was not satisfied with the design and had found a reference-building with a more daring and transparant design. 
I had to realize the new design of the front office. It has the same outline of the sorting shed, framed with thick anthracite colored border. Half of the façade is a curtain wall in which the vertical styles are emphasized, the other half is realized with a sheet pile in anthracite color. The entrance is emphasized by an L-shaped frame.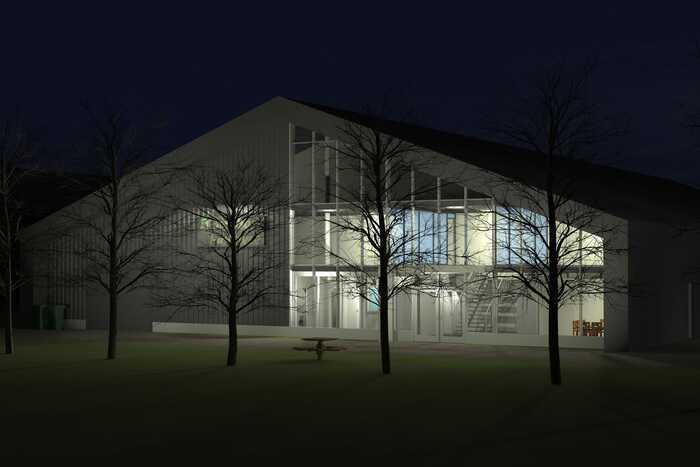 On the ground floor is a large porch with connected thereto a canteen and dressing room. On the first floor are the office rooms and a further to divide space. The rooms connected to the curtain wall are designed as open spaces, with a translucent wall. By day these rooms have a great amount of daylight so there is no additional lighting needed. The design of the building is now being realized.