Masterproject 2
Tensegrity Facade
The Assignment:
During the fair "Gevel 2012" is a Bold & Beautiful Façade Student Design Competition. This is a competition between students of five universities on the design of innovative and inspiring façade systems and façade elements. The final design has to be realized as a mock-up on full scale and will be exhibited during the event.
The main criteria for evaluation were esthetics and durability. Additional criteria were the innovative content, application possibilities, technical feasibility, compatibility with climate and quality of presentation.

During this project there were three phases:
• Individual, the starting phase, making concepts.
• In couples, elaboration of one concept.
• In groups of three, elaboration and realization of the design.

 The Idea:
The concept that was realized is The Tensegrity Façade. The Tensegrity Facade is the solution to a large portion of the building stock which one can use visual upgrade. Think of gallery flats and garages. Besides the visual function that the Tensegrity Façade has, it can also have a solar-protection and wind-breaking function. Tensegrity is a constructive principle whereby compression rods and tension cables make an equilibrium with each other in the nodes, as seen in the Needle Tower by Kenneth Snelson.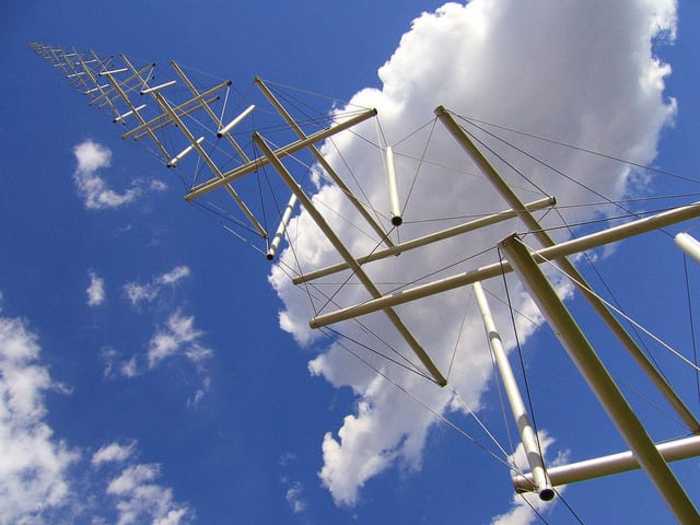 The following definition of tensegrity is given by Anthony Pugh:
"A tensegrity system is established when a set of discontinuous compressive components interacts with a set of continuous tensile components to define a stable volume in space."
The compression rods never touch each other, which results in an exciting effect of "floating" rods. In the Tensegrity Façade some compression rods are replaced by double curved structural glass that will enhance the effect of the "floating" rods.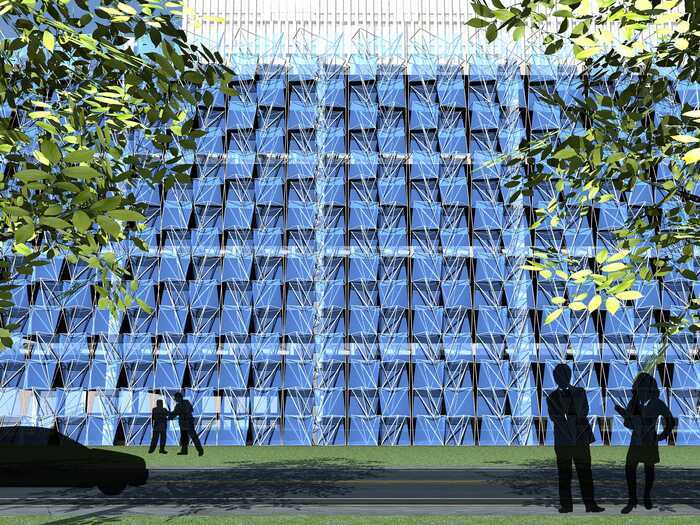 Elaboration:
After the concept design was made, the drawings had to be realized in a full-scale model. For this we needed to realize and send drawings to the steel constructor, W. Martens. They created the rods and the steel for the frame behind the façade. For the glass in the façade Scheuten Glas, sponsored us 32 glass plates. These glass plates were curved in an oven of 600 degrees. Finally we assembled the rods, cables and glass plates together. These tensegrity constructions were placed on the back-frame.
Result:
The tensegrity mock-up is exhibited at the fair "Gevel 2012" in Rotterdam.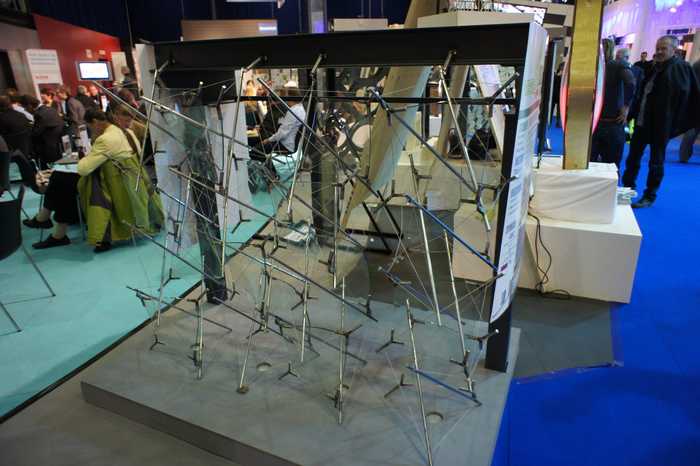 Links
Poster Tensegrity Facade
Publication: Architectuur & Stedenbouw 
Publication: VMRG
Reflection report
Website Gevel 2012