Pre-Master
Cube, Tea Pavilion
First Assignment
SiTU/eation: Cube 
The first assignment for Architecture on the University of Technology Eindhoven was to design a Cube with strict constrains. The Cube has to be placed in an grass field, surrounded by a wall of 2 meter and the cube's dimensions have to be 6 x 6 meters. The exterior of the cube has to be made of aluminium plates of 1,25 x 2,5 m.
The cube needs to reflect a Tajiri sculpture that is exposed inside the cube. The Tajiri node applied in this design is nowadays exposed at Hoog Catherijne Utrecht.
The pavilion is approached from the large grass plains to the circular asphalt. The walls of the building act as a barrier and seem to be a closed barrier until you come closer to the cube. The entrance of the cube is below ground level and is accesible by a ramp. This makes the input the entrance not visible from a far distance. Once under the pavilion will be routed through an upward spiral, like a knot, around Tajiri's sculpture. The exit is at the rear on the upper floor by a staircase leading to the grass plains.
The design is red/brown from the outside, so it will catch your eye in the open green field. The outside is showing the upward spiral, by the light and dark red planes, that is used for the routing through the building. Tajiri made rusty and copper sculptures, such as the node inside, and this copper material is also used on the exterior. The interior is completly white, so all attention will be at the Tajiri node.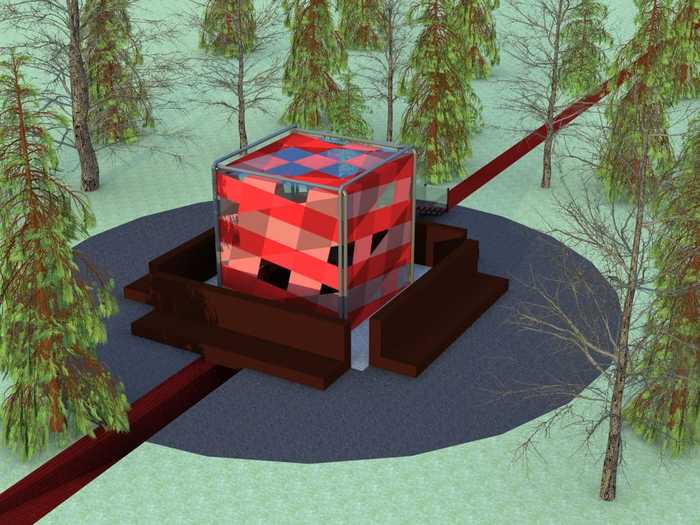 Second Assignment
Tea Pavilion: Tornado
The second assignment was to design a tea pavilion near the Clausplein Eindhoven. The requirements to the design were:
Accessible for 10 persons
1 m2 constructionsurface
Location between Adminrant, Hooghuys and Regent.
At first a research was made of the environment. The environment consisted of modern and old buildings, with red, gray and white colours and was very windy and cold and it was located near a main road of the City of Eindhoven.  
After the environmental research a location had to be determined. The chosen location was on the intersection of the Willemstraat, Emmasingel and Keizersgracht. 
After this the brainstorming for the design started. The outcome was a combination of the function of a teahouse and the environment. A teahouse is giving rest, peace and warmth. The environment is windy, sober and gray. A combination of these were found in a tornado, where the outside is gray, windy and sober. And the inside of a tornado is windless and calm. 
After this the first sketches were made of a tornado, with the stairs around it. After several of time a final sketch was made and elaborated. The final design is shown below.
Poster Eindresultaat
Poster Proces